Now, for the first time, ALL New Jersey Investors will have an opportunity to invest in high growth New Jersey Companies. New Jersey Intra-State Equity Crowd Funding helps to level the investment playing field for ALL investors. Accredited Investors, Angels and other Wealthy 1% ers have always had access to these types of investments, now everyone can participate. However, these types of investments are not for everyone. There is a high level of risk associated with these investments – you could lose your entire investment. So, as a protection for Investors, New Jersey law limits individual investments to $5,000 per offering. This limit does not apply to verified Accredited Investors.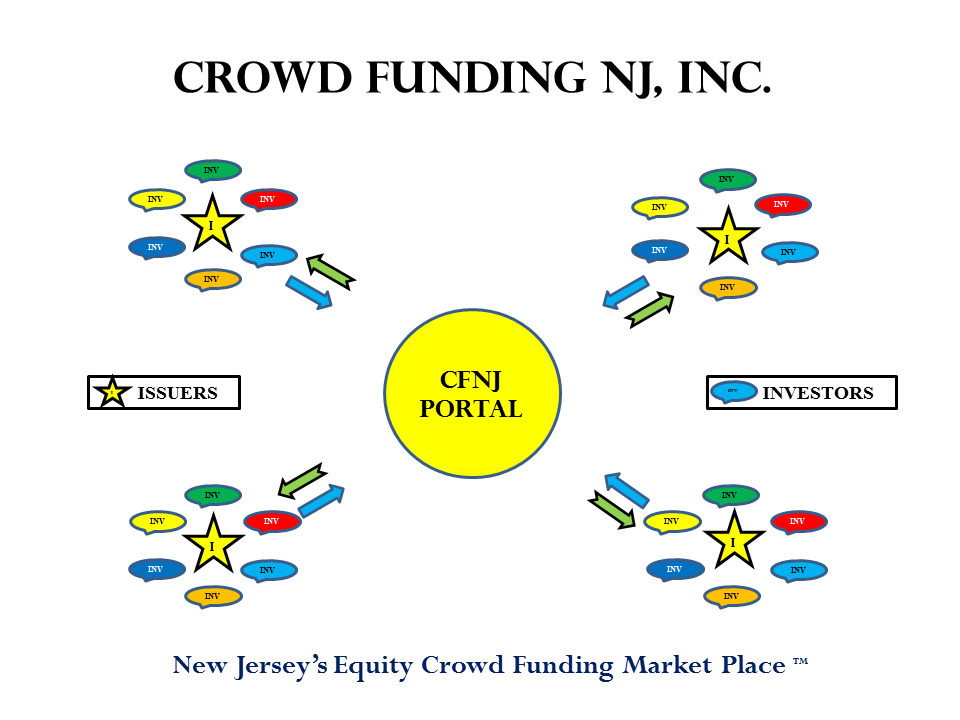 Crowd Funding NJ (CFNJ) provides a secure fully integrated market place for New Jersey Intra-State Equity Crowd Funding transactions. We will work with qualified, registered Issuers to provide an appropriate and compliant Disclosure Package for registered Investors to review on the CFNJ Portal. In addition, Prospective Investors will have the opportunity to ask questions of the Issuer, thru the Portal, and to review the questions, responses and comments of other Prospective Investors in evaluating the attractiveness of a particular Issue. Each Issue stands on its own merit and each Investor must determine whether a particular investment makes sense for them, or not.
If an Investor chooses to invest in an Issue all the required investment documents will be provided electronically for electronic signature and return. Once the documentation is complete the Investor will be directed on which Bank Escrow Account to send their funds. Each Issuer will have their own Bank Escrow Account. All funds go directly to the Escrow Account, either by wire transfer or check. Once receipt is verified by the Bank, the Investor will receive acknowledgement of their investment from CFNJ. All funds remain in the Bank Escrow Account until the Issuer's Crowd Funding Campaign target is reached. Once the target is reached the Campaign may be closed and the funds released to the Issuer. If the target is not reached, all funds will be returned to Investors within 60 days.
These are the Basics. If interested, more information is available on our Portal which may be reached through
this link
. You may also contact us directly at
[email protected]
.
Highlights of New Jersey Law for Prospective Investors:
Investors must be New Jersey residents.
Investors must affirm knowledge of risks.
Investors maximum investment of $5,000.
Accredited Investors are not limited to $5,000.
Accredited Investors are excluded from the Cap.
Related Party Investors are excluded from Issue.
If goal is not reached, funds are to be returned within 60 days.